We're working very hard on our first Reading Response Letters for One Green Apple by Eve Bunting. Since this is our first letter, we're writing it together as a class. To add some individuality to the letters, each child is asked to write certain aspects of the letter on their own (e.g. their opinion of the book).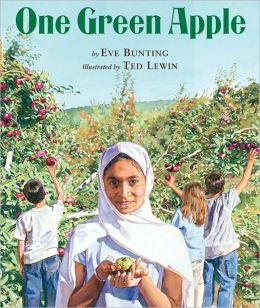 There are ten steps to writing a Reading Response Letter. I created a powerpoint to share with the students outlining the ten step.I'll post that in the next day or two.
We also talked about thick and thin questions today. Part of the Reading Response Letter includes a section where the student writes 3 or 4 questions they have about the text. Students are learning that the questions they ask need to be "thick" questions. Thick questions are those that would really influence how you understood the story. They would also make the story even more enjoyable to you if you knew the answer. A thin question isn't quite as rich. Knowing the answer doesn't really make or break the text for you.
I couldn't really think of a text that all blog visitors would have read so to demonstrate the difference between thick and thin questions, I thought of questions you'd ask Wayne Gretzky if you could:
Thin questions:
What is your favourite cereal?
What kind of cell phone do you have?
Thick questions:
Who were your hockey influences growing up?
How did you feel when you played your last game for Edmonton?
Thin questions have a bit of a "who cares" factor to them; the information requested in a thin question doesn't really make much of a difference in your understanding of the book. Thick questions are more along the lines of "once I know this, I'll feel more connected to the text, or in this case, a person.